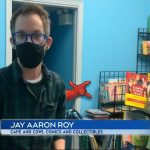 There are many ways to give and get this holiday season, but some gifts keep on giving.
Jay Aaron Roy's vision for his store in Lower Sackville, N.S., is to make a difference.
Seventy per cent of craft art sales at Cape and Cowl Comics and Collectibles return to the artist.
T-shirt sales also help fund a charity for the homeless, or the storeowner's youth outreach program. Read More >>>