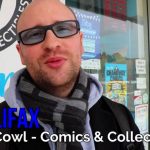 This week we are checking out Cape & Cowl Comics! Not only do they have an amazing comic book store, they also do so much for the community, especially for youth.
Cape & Cowl is so much more than a comic book store, they offer counciling for youth, D&D nights for anyone that wants to drop in, and Autisum Nova Scotia have D&D night, as well as they have yoga events and finally they host affordable birthday parties too.
These are just a few of the ways Cape & Cowl are helping the community. You should definitely check them out!