Did you know… hidden inside our shop name, Cape & Cowl, all these years… are two little buddies…
INTRODUCING:
Ape & Owl!
Ape & Owl are here to help young readers and their loved ones explore our highly recommended titles that celebrate diversity in families, bodies, communities, and feelings!
Have a title to suggest? Send us an email to jay@capeandcowlcomics.ca!
---
My Mommy, My Mama, my brother, and me: These are the Things We Found by the Sea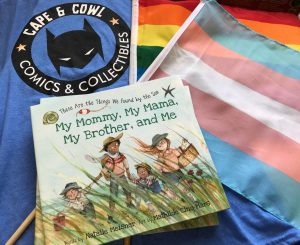 Book by Natalie Meisner
And these are the things we find by the sea
My mommy, my mama, my brother, and me.
With this gentle refrain, the debut picture book from celebrated author and playwright Natalie Meisner (Double Pregnant) reflects on her own two-mom, two-son family's early days growing up in Lockeport, Nova Scotia.
Living by the sea offers myriad charms for the two young brothers in this poetic ode to beachcombing. When the fog disappears, the path to the beach beckons, with all the treasures it leaves behind: lobster traps, buoys, fused glass, urchins, a note in a bottle. But best of all is all the neighbours they meet along the way. An unforgettable instant classic for families of all shapes and sizes. Featuring glorious watercolours by Mathilde Cinq-Mars, which capture the warmth and magic of time spent with family by the sea.
---
Who Are You? The Kid's Guide to Gender Identity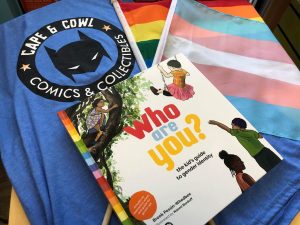 Book by Brook Pessin-Whedbee
What do you like? How do you feel? Who are you?
This brightly illustrated children's book provides a straightforward introduction to gender for anyone aged four and up. It presents clear and direct language for understanding and talking about how we experience gender: our bodies, our expression, and our identity. An interactive three-layered wheel included in the book is a simple, yet powerful, tool to clearly demonstrate the difference between our body, how we express ourselves through our clothes and hobbies, and our gender identity. Ideal for use in the classroom or at home, a short page-by-page guide for adults at the back of the book further explains the key concepts and identifies useful discussion points. This is a one-of-a-kind resource for understanding and celebrating the gender diversity that surrounds us.
---
The Name I Call Myself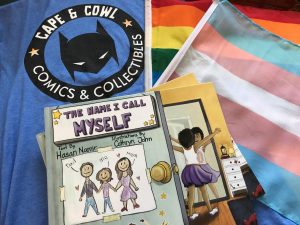 Book by Hasan Namir and Cathryn John
A sweet and moving picture book depicting Ari's gender journey from childhood to adolescence in order to discover who they really are.
Meet Ari, a young person who doesn't like to be called by their birth name Edward: "When I think of the name Edward, I imagine old kings who snore a lot." Throughout this beautiful and engaging picture book, we watch Ari grow up before our very eyes as they navigate the ins and outs of their gender identity; we see how, as a child, they prefer dolls and princess movies, and want to grow out their hair, though their father insists on cutting it short, "because that's what boys look like." At nine, they play hockey but wish they could try on their mother's dresses; at fifteen, they shave their face, hoping to have smooth skin like the girls. At sixteen, they want to run away, especially from their father, who insists, "You're a boy, so you have to act like one." Who will Ari become?
Moving from age six to adolescence, The Name I Call Myself touchingly depicts Edward's tender, solitary gender journey to Ari: a new life distinguished and made meaningful by self-acceptance and unconditional love.
---
From the Stars in the Sky to the Fish in the Sea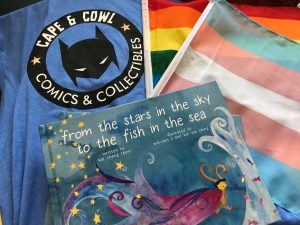 Book by Kai Cheng Thom
A magical gender variant child brings transformation and change to the world around them thanks to their mother's enduring love.
In the magical time between night and day, when both the sun and the moon are in the sky, a child is born in a little blue house on a hill. And Miu Lan is not just any child, but one who can change into any shape they can imagine. The only problem is they can't decide what to be: a boy or a girl? A bird or a fish? A flower or a shooting star? At school, though, they must endure inquisitive looks and difficult questions from the other children, and have trouble finding friends who will accept them for who they are. But they find comfort in the loving arms of their mother, who always offers them the same loving refrain: "whatever you dream of / i believe you can be / from the stars in the sky to the fish in the sea. "
In this captivating, beautifully imagined picture book about gender, identity, and the acceptance of the differences between us, Miu Lan faces many questions about who they are and who they may be. But one thing's for sure: no matter who this child becomes, their mother will love them just the same.
---
Phoenix Goes to School: A Story to Support Transgender and Gender Diverse Children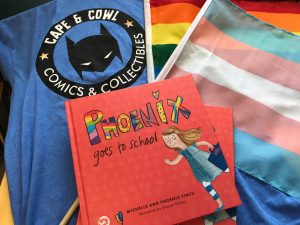 Book by Michelle Finch and Phoenix Finch
My Mommy tells me I'm perfect and to be brave.
"You know who you are," she says,
"Just be yourself and always listen to your heart."
With those words of encouragement from her Mom, Phoenix is preparing for her first day of school. She is excited but scared of being bullied because of her gender identity and expression. Yet when she arrives at school she finds help and support from teachers and friends, and finds she is brave enough to talk to other kids about her gender!
This is an empowering and brightly-illustrated children's book for children aged 3+ to help children engage with gender identity in a fun, uplifting way. It supports trans children who are worried about being bullied or misunderstood.
---
A Quick & Easy Guide to Queer & Trans Identities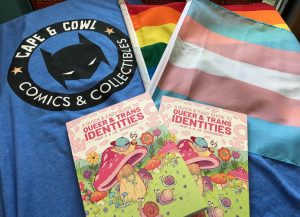 Book by Mady G.
A great starting point for anyone curious about queer and trans life, and helpful for those already on their own journeys!In this quick and easy guide to queer and trans identities, cartoonists Mady G and JR Zuckerberg guide you through the basics of the LGBT+ world! Covering essential topics like sexuality, gender identity, coming out, and navigating relationships, this guide explains the spectrum of human experience through informative comics, interviews, worksheets, and imaginative examples. A great starting point for anyone curious about queer and trans life, and helpful for those already on their own journeys!
---
Pashmina
Book by Nidhi Chanani
Priyanka Das has so many unanswered questions: Why did her mother abandon her home in India years ago? What was it like there? And most importantly, who is her father, and why did her mom leave him behind? But Pri's mom avoids these questions—the topic of India is permanently closed.
For Pri, her mother's homeland can only exist in her imagination. That is, until she find a mysterious pashmina tucked away in a forgotten suitcase. When she wraps herself in it, she is transported to a place more vivid and colorful than any guidebook or Bollywood film. But is this the real India? And what is that shadow lurking in the background? To learn the truth, Pri must travel farther than she's ever dared and find the family she never knew.
In this heartwarming graphic novel debut, Nidhi Chanani weaves a tale about the hardship and self-discovery that is born from juggling two cultures and two worlds.
---
The Prince and the Dressmaker
Book by Jen Wang
Paris, at the dawn of the modern age:
Prince Sebastian is looking for a bride—or rather, his parents are looking for one for him. Sebastian is too busy hiding his secret life from everyone. At night he puts on daring dresses and takes Paris by storm as the fabulous Lady Crystallia—the hottest fashion icon in the world capital of fashion!
Sebastian's secret weapon (and best friend) is the brilliant dressmaker Frances—one of only two people who know the truth: sometimes this boy wears dresses. But Frances dreams of greatness, and being someone's secret weapon means being a secret. Forever. How long can Frances defer her dreams to protect a friend? Jen Wang weaves an exuberantly romantic tale of identity, young love, art, and family. A fairy tale for any age, The Prince and the Dressmaker will steal your heart.
---
A Quick and Easy Guide to Consent
Book by Isabella Rotman
"Accessible and inclusive to all genders, sexualities, and levels of comfort with sexual activity." — Foreword Reviews (starred review)
A quick, easy and important educational illustrated guide to giving and receiving consent in sex, relationships, and other physical contact.
How do you tell someone you want to do stuff with them? How do you ask if they want to do stuff with you? How do you know what stuff you want to do with each other? Enter: Sargeant Yes Means Yes from the Consent Cavalry, a beacon of clarity in a fuzzy minefield of questions. Sarge drops in on a diverse range of folks deciding whether to engage in sexual activity in this short and fun comic guide to communicating what you want, don't want, and how you want it!
With wit and charm, Sarge also includes tips on what affirmative consent looks like, advocating for what you want, and setting boundaries that honor your comfort and safety. The result is a positive resource illustrating how easy it really is to respect each other's bodies and desires.