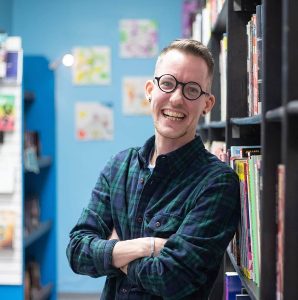 Cape and Cowl was born out of a need for owner and operator Jay Aaron Roy to create his own space. He was born in Halifax, raised in Fall River, attended high school in Bedford, moved to Dartmouth, attended Dalhousie University in Halifax, moved there, where he found a buried love for the theatre and went on to achieve a double major honours degree in playwriting and directing for the stage.
Jay's get-it-done attitude and his willingness to take risks led him to start a small business in 2014, with the aim to incorporate a youth drop-in center inside. Having worked at many local geekery shops, while also co-creating and directing the local award winning stage show and podcast, Geeks VS Nerds, Jay finds passion in bringing people together, lifting people up, and including them in the fun projects and initiatives thought up.
Since Jay was very young, creating forts with his friends in the woods that they would turn into shops and play out their dreamt futures, he was dreaming of creating a space like this. An outgoing Leo, Jay has been many things from camp counselor, to auction coordinator, to director, to small business owner, to candidate for council even! His passion is clear to those who know him, and Cape & Cowl is basically Jay's Enterprise. If Cape & Cowl is Jay's Enterprise, then The Leighann Wichman is the reactor core, because this is the essential physical space and representation of the purpose that is Cape & Cowl. Oh yes, we are a comic book store, and oh yes you can get amazing collectibles and locally made art that you can't find anywhere else, and beautiful goodies and vintage trinkets that are so fun to treasure hunt…but everyone who comes into the shop realizes that the space is so, so much more.
Through the space, and what it represents, we help connect to the community, and truly reflect our community, in all it's gorgeous diversity. There is so much…SO MUCH that has been woven into the love story that is Cape & Cowl thanks to the many incredible people who have joined the journey of C&C since September 28th, 2014!
Please visit the other tabs on the website, (the media tab has tons of videos, podcasts, articles, and more! And be sure to check out the new Ape & Owl page that focuses on materials for young readers and their loved ones that focus on diversity of all kinds!)
Please don't hesitate to contact Jay if you have any questions at all!
We are on Facebook and Instagram!
622 Sackville Drive, Lower Sackville
902-252-3452
jay@capeandcowlcomics.ca